St. George being the Patrol Saint of England, his day, 23rd April is duly marked by Classic FM (our favourite radio station) as the day for English composers. They have played lots of them, most hardly known to the general public. Apart from a handful, who are famous internationally, and Ralph Vaughn Williams is one of them.
We visited Leith Hill Place, his childhood home.
Lying amidst Surrey hills, this modest house was built in 1600s and in mid 18th century acquired its classical Palladian look. A hundred years later it was bought by Josiah Wedgwood III, grandson of the Josiah Wedgwood of the famous pottery works. He retired from the family business to settle in this remote countryside home with his wife Caroline, who was the sister of Charles Darwin (the very same who gave us On the Origins of Species) – she was his cousin. Joe's sister Emma married Charles Darwin. With the families so closely related, the Darwins were frequent visitors to Leith Hill Place, and the upper rooms of the house, on the 3rd floor, were reserved for Charles to work in when he came to stay.
Currently those rooms feature a 'soundscape' – a series of audio recordings, telling the story of Vaughan Williams, as visitors move from room to room.
It was Caroline who organised the planting of the rhododendron forest in the grounds.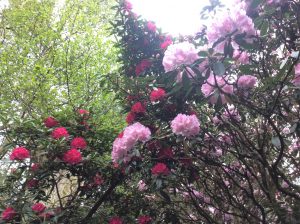 Joe and Caroline Wedgwood had three daughters. One of them, Margaret, married the Reverend Arthur Vaughan Williams. The young family lived in Gloucestershire, but after Arthur died in 1875, Margaret and her three young children came to live with her family in Leith Hill Place.
Her youngest son Ralph, born in 1872, began piano at the age of 5 with his Auth Sophy, who also lived at the house. Having composed his first piece later on that year, he was not too keen on the piano, preferring the violin, which he began learning a year later. He was also fond of playing the small organ, which was installed in the entrance hall of the house – the servants having to pump it, which, apparently they did not enjoy much!
The organ is no longer there, instead, visitors can play the piano in the hall.
Ralph did grow to love the piano – one of the few original Vaughan Williams' artifacts in Leith Hill Place is his piano, which he owned later in life when he lived in London, and composed most of his famous works on it, including The Lark Ascending.
Ralph went to a boarding school and later on to Charterhouse School, where his musical talent was encouraged to develop further.
Coming home during the holidays, Ralph wondered through the park and picturesque Surrey countryside, developing a taste for folk songs and tunes that he heard in the local villages and inns.
In 1890 Ralph left Charterhouse School to study at the Royal College of Music and then at Trinity College, Cambridge, and this was the end of his connection with Leith Hill Place.
After the death of Ralph's mother and aunts, and of his elder brother Harvey, Ralph inherited Leith Place and gave it to the National Trust in 1945. It was leased to other members of the Wedgwood family, and in later years was a boarding school.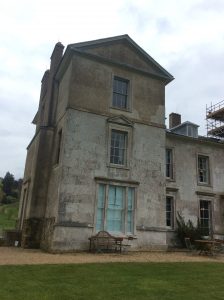 In 2013 it was opened to the public as a Vaughan Williams museum, displaying only a few photographs and information boards, although the National Trust website says they are working on developing the museum further.
Leith Hill Place – waiting for a new future
Ralph Vaughan Willams went on to become of the most influential English composers. He wrote concert pieces (like the famous Lark), songs, operas, ballets, chamber music and symphonies.
Alongside Cecil Sharp, he collected English folk songs, which were included into Cecil Sharp's series Folk Songs of England. Vaughan Williams was President of the English Folk Song and Dance Society, their home, Cecil Sharp House, includes a library named in his honour – Vaughan Williams Memorial Library.
Vaughan Williams' compositions are deeply rooted in English folk and Tudor music, and amongst his most famous works are Fantasia on a Theme by Thomas Tallis (1910), and the London Symphony.
Vaughan Williams has been composing for over 50 years, only stopping when he went to the front during the First World War. He was in this 40s, and too old to be conscripted, but joined the medical core anyway, risking his life on the battlefields of France, and damaging his hearing, which was a cause of deafness for him at the end of his life.
Ralph has not forgotten his childhood home – and Leith Hill has not forgotten him – in 1905 Vaughan Williams helped Leith Hill Music Festival for amateur musicians, and was its principle conductor until 1953. The Festival is going strong, with a varied programme of events for 2017 – www.lhmf.org.uk
Vaughan Williams was composing until his death in his London home in 1958. His ashes are interred near the burials of Purcell and Stanford in the north choire aisle of Westminster Abbey.