Charles Dickens, The Pickwick Papers talk and workshop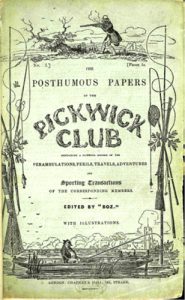 The life of Charles Dickens is as varied and colourful as his characters. Above all, it is very Victorian, revealing attitudes, thoughts and aspirations of the society at the time. How did the Victorian society shape Dickens, and how did he shape the society?
We will explore Dickens as a person and as a writer, dipping into the fascinating world of his characters. What do we learn from his works, and what makes his masterpieces relevant for us today?
Dickens' world is an enchanting maze of vibrant characters, who help us learn about ourselves and people around us. His language is as colourful as his characters – we dip into it while reading a story from his first major novel The Pickwick Papers.