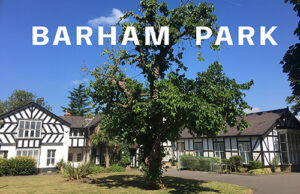 The grounds of an ancient mansion house, Barham Park is a compact, but spectacular gem in the heart of Wembley. The small complex of historic buildings, the oldest of which houses Barham Park Community Library, remind us of the connections to Wembley's prominent families. Luxurious flower displays of the walled garden, the quiet dignity of the rockery, the airy expanse of the wildlife meadow are complemented by many remarkable trees, making this an excellent choice for our tour.

The Enchanged Forest of Barham Park
Mindful nature walk and historical tales
Combining stories, arts, meditation and mindful movement we will take you on a journey to connect to nature and learn about environment
In and Around Barham Park:
Fascinating history of the park and the historic Wembley area. 
This walk will also include St.John's the Evangelist Church nearby.