Going round stately homes on a fine holiday weekend you can come across Jousting – re-enactment of knights in colourful armour tackling each other on horseback. This has been a popular summer theatrical entertainment from 1970s.
During Middle Ages jousting had a practical purpose – preparing knights (and their horses) for warfare. This was also the opportunity for the noblemen to demonstrate their skills and courage.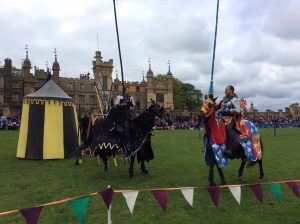 The term comes from Old French joster, which in turn has a Latin origin iuxtare meaning 'to approach or to meet'. Two knights gallop towards each other, aiming to strike the opponent's shield with a long blunt lance, knocking their weapons off or unsettling them from a horse. The English nobility spoke Old French since William the Conqueror, but by the time of Henry VIII we have an English word for it – tilt, which originally meant a barrier to separate the knights charging towards each other, and the tilt-yard is where this competition took place.
The knights wore heraldic signs over their armour, and so did the horses, on capes called caparisons.
As the sport developed, in later Middle Ages, it became more chivalric, and more regulated. There was a series of competitions, some of them involving agility and horsemanship skills, like charging towards a quintain – a wooden figure with two 'arms', one to be hit with a lance, and the other one holding a spiky club, which, as the quintain swings round, would hit the knight on the back if he was not quick enough to avoid it.
Another skill was to pick up rings with the lance, and to pin an object from the floor.
It was a popular sport with English nobility right up until 17th century, gaining more the status of a pageant, rather than training for battle.
And this is what we have today – a staged show, with knights in bright regalia, covering armour and horses, performing equestrian tricks and engaging in mock battles. The Knebworth House event had four knights from two opposing camps battling each other for the 'Excalibur' – pulled from a stone, obviously, by a little boy from the audience.
We were sitting by the side of the Black Knight – the 'baddie' of the show.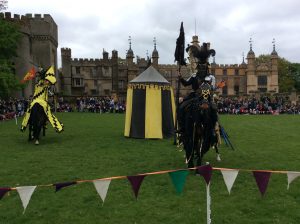 Lilia was very taken with him, and so was I, for his superb control of his horse, effortlessly doing sideways walks, prancing and charging from the spot, without obvious effort from the rider.
He lost, however, being the 'bad guy'… Lilia insisted on watching the second show of the day, hoping for a different outcome, – no such luck, the second performance was exactly the same as the first one.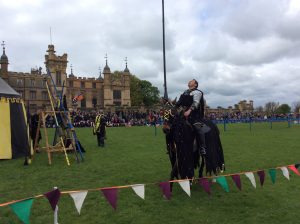 The entertainment was excellent – watch out for jousting events throughout the country in summer. Lilia certainly wants to see it again (hoping for the Black Knight to win….)