2 June 1953 was the coronation day of Elizabeth II. The 26 year old Elizabeth became Queen on the day her father, George VI died, on 6 February 1952, but it was required to have a period of mourning and also lengthy preparations were needed for the coronation ceremony. By then Elizabeth was married to Philip, with two children, – only her oldest son Charles was present at the ceremony, his sister Anne was considered to be too little.
The Westminster Abbey ceremony combined ancient traditions, with some elements dating back to the 10th century, and a modern approach – it was the first coronation shown on TV, with many people buying their first TV sets to watch it.
Elizabeth and Philip processed in the Gold State Coach from Buckingham Palace to the Westminster Abbey, to the cheers of the crowds, enthusiastic despite the rain. Over 8 thousand guests, among them 2,000 jounalists, representing 129 countries and overseas territories. The coronation regalia used during the ceremony is now on display at the Tower of London, including St. Edward's Crown which is used for the actual crowning. The film of the coronation is also shown there.
After the ceremony the royal family went home and appeared on the Buckingham Palace balcony to wave to the crowds.
Interesting fact – principals of the Cordon Bleu Cookery School in London invented a new dish for the coronation banquet, of cooked cold chicken with a mayonnaise type sauce with curry, dried fruit, herbs and spices, called Coronation Chicken, still popular in England today.
Now Elizabeth is 94, and despite the trials and tribulations of the royal family in the last 67 years, she is loved and respected by people in the UK and abroad. On 1 June the Palace issued photos of her riding in the grounds of Windsor Castle, – with a scarf for a helmet!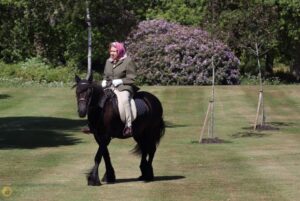 Photos –  www.royal.uk
https://www.royal.uk/50-facts-about-queens-coronation-0
https://www.history.com/this-day-in-history/coronation-of-queen-elizabeth-ii
https://en.wikipedia.org/wiki/Elizabeth_II
https://en.wikipedia.org/wiki/Coronation_of_the_British_monarch
https://en.wikipedia.org/wiki/Coronation_chicken