If you've ever been to the London's Coliseum, the home of English National Opera, you will always remember the special feeling when you saw its interior for the first time – a kind of intimacy combined with baroque-like opulence, when the Victorian era met the Edwardian one. This was the creation of architect Frank Matcham, who died 200 years ago today. He was responsible for the building of over 90 theatres in the UK and involved in the refurbishment of 80 more. Matcham also worked on pubs, grand halls, hotels and a shopping arcade in Leeds.
Matcham did not have an academic education in architecture, but rather learnt his trade through practice, starting when he became apprenticed to an architect at the age of 14. At 21 he moved to London to join the architectural practice of J.T. Robinson, which specialised in theatres (who was also a surveyor to the Lord Chamberlain) – Matcham later married his daughter and took over the business.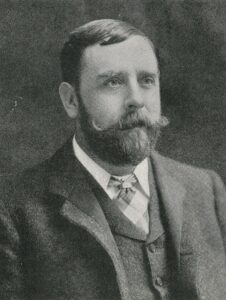 In the early days of the 20th century you will find Matcham theatres all over the country – Belfast, Glasgow, Edinburgh, all the way down south, to Cardiff and Brighton.
Matcham approached the design of a theatre from a practical point of view, his theatres were built quickly and to budget, even on difficult sites, without compromising the overall effect and attention to detail. No two theatres are the same, but they all create a special feeling of magic for the theatre goers. Matcham found a way to replace columns supporting the upper galleries with cantilevers, to minimise the number of seats with an obstructive view of the stage. But it is the interior design that captivates you – when you enter the auditorium, you are enveloped in a special aura of a mystifying make belief of the theatre world, creating by an imaginative free style mixture of Renaissance, Tudor, Louis XIV, Italianate, Rococco, Classical and Baroque, including Anglo-Indian motifs, naval and military insignia. He developed own special fibrous plaster, which made it easier for his imagination to run wild.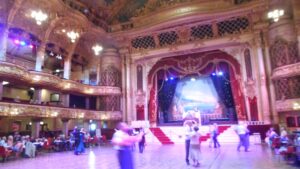 Matcham's Northern masterpiece – the Tower Ballroom in Blackpool (1899)
The Victorian era was the heyday of music hall, which broadened the appeal of theatre going for the general public. Often the safety standards left much to be desired, – some 91 major fires were reported in the British Isles in theatres in the period 1870-1900, involving great loss of life. Working along the lines of new safety and sanitary legislation introduced at that time, Matcham was in the forefront of creating a safe and enjoyable theatre for everyone, improving not only fire safety, but also ventilation, acoustics and stage design.
Only about 26 of his creations survive today, with some theatres having been transformed into bingo halls, nightclubs and cinemas.
His first project was the Elephant and Castle theatre in London in 1878. By the end of his working career he built or refurbished over 20 theatres in London alone, out of which only 7 survive today.
London (Hammersmith), Lyric Opera House, reconstructed 1979 within new structure
London (Richmond), Richmond Theatre (1899)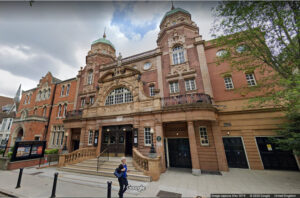 London (Westminster), London Hippodrome (1900)
London (Hackney), Hackney Empire (1901)
London (Newham), Stratford Theatre Royal (1902)
London (Hammersmith), Shepherd's Bush Empire (1903)
London (Westminster), London Coliseum (1904)
London (Westminster), London Palladium (new theatre behind Lewis's Corinthian facade) (1910)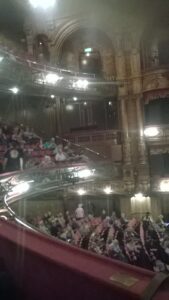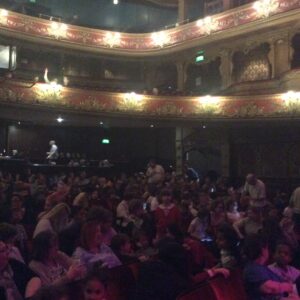 Frank Matcham died on 17th May 1920 in Essex and is buried in Highgate Cemetery.
Interesting fact – Frank's brother Charles Matcham moved to America, where he worked for the Bell Telephone Company. He was involved in the building  of first telephone exchanges in Europe and the introduction of the telephone to St. Petersburg and Riga where he personally installed Alexander II of Russia's phone system.
Sources
http://www.frankmatchamsociety.org.uk/about/frank-matcham-1854-1920/
https://www.english-heritage.org.uk/visit/blue-plaques/frank-matcham/
https://en.wikipedia.org/wiki/Frank_Matcham
https://www.theguardian.com/stage/2020/may/13/velvet-wonderlands-the-plush-pleasure-palaces-of-frank-matchless-matcham
http://www.arthurlloyd.co.uk/Matcham.htm