We were very lucky yesterday to see a performance by Croxley Mummers. A Mummers' play is a long standing English tradition of amateur actors performing short plays, often associated with Morris dancing, at festivals, events, pubs or even people's homes.
Traditionally there are two opponents having a fight, and the doctor character revives the fallen opponent by way of a magic potion.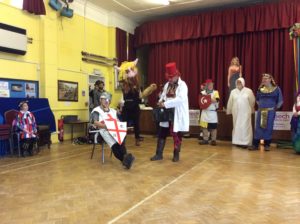 Mummers' plays are usually tied up with traditional celebrations, like Christmas, Easter or Halloween. Our event fell between St.George's Day and May Day, so it was fitting that the play featured St.George. In the case of our Mummers, St.George slew not only the dragon, but also a Turkish Knight and a giant!
In early German the word 'mummer' meant a 'disguised person', and our mummers featured striking costumes and masks, the Dragon even spotting a bit of fairy lights after having been revived!
Through the ages mummers were mostly men, but now women take part as well, and we had 'the Queen of Sheba' rewarding St.George with her 'favours'.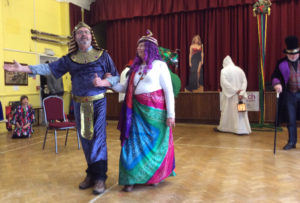 The earliest references to mummers plays come from mid 18th century. Folk traditions grow and change with the times, and mummers are no exception. The rhyming couplets verse included the references to Trump and Brexit, and very skilfully it was done, too!
https://www.facebook.com/pg/thecroxleymummers/about/?ref=page_internal