Standing on the banks of the river Thames, London's botanical gardens, Kew Gardens, is an absolute joy to visit any time of the year, for grown-ups and children alike.
The attraction is not just 30,000 different kinds of plants, but the beauty of the landscape and fascinating landmarks dotted all over the extensive grounds.
The royal beginnings of Kew Gardens are explored in Kew Palace, 17th century building in a Dutch style, made a royal residence by George III. Now a Historic Royal Palace, it tells the story of the royal family at Kew, and its garden features medicinal plants used in 17th century.
Plants from every corner of the world thrive in six conservatories, and if you are visiting at a warm time of the year, you can stroll by the biggest flower border in England!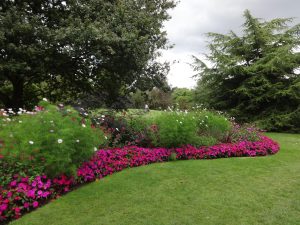 Ornamental buildings, museums and botanical art galleries attract over 1 million visitors a year. For the younger visitors, there are indoor and outdoor playgrounds, and a tree-top walk, as well as a train ride around the grounds and various eating establishments – everything for a perfect day out!
Kew is also an important scientific establishment, housing plant collections, herbarium, a research laboratory, library and archives, extensively used by botanists and students from around the world.